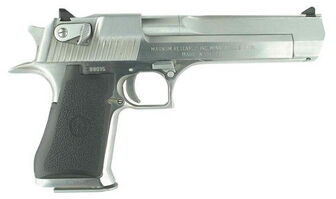 The
Desert Eagle
is a large-framed gas-operated semi-automatic pistol designed by Magnum Research in the U.S. and by IMI in Israel, the pistol is manufactured primarily in Israel by IMI (Israel Military Industries, now Israel Weapon Industries). Manufacturing was moved to Saco Defense in the state of Maine from 1996 to 2000 which carried the XIX designation, but shifted back to Israel when Saco was acquired by General Dynamics. The Desert Eagle has been featured in roughly 500 motion pictures and TV films, considerably increasing its popularity and boosting sales
The Desert Eagle is a pistol, portrayed as the Deagle in Army of Two.
Cost: $15,500
Ammo capacity: 8
Barrel
Base - $0
Mk.76 Swordfish -$4,000
Viau Final Impact Mk.2 - $8,000
EAC Browne Closer V3 - $20,000
Cartridge
8-Round Magazine - $0
12- Round Exteded Magazine - $4,000
Appearance
Standard - $0
Pimped - $10,000
The Desert Eagle is portrayed as the DE-0.44, in Army of Two: The 40th Day and is the most powerful of the 3 pistols available.
Cost: $13,500
The Desert Eagle is referred to as the Falcon .50 in Army of Two: The Devil's Cartel.
Ad blocker interference detected!
Wikia is a free-to-use site that makes money from advertising. We have a modified experience for viewers using ad blockers

Wikia is not accessible if you've made further modifications. Remove the custom ad blocker rule(s) and the page will load as expected.