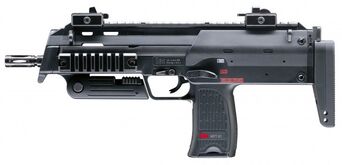 The
MP7
is a German Personal Defense Weapon manufactured by Heckler & Koch and chambered for the HK 4.6×30mm cartridge. It was designed with the new cartridge to meet NATO requirements published in 1989, as these requirements call for a personal defense weapon class firearm, with a greater ability to defeat body armor than current weapons limited to conventional pistol cartridges. The MP7 went into production in 2001. It is a direct rival to the
FN P90
, also developed in response to NATO's requirement. The weapon has been revised since its introduction and the current production version is the
MP7A1
.
The MP7 is a submachine gun in Army of Two.
Appearance
Ad blocker interference detected!
Wikia is a free-to-use site that makes money from advertising. We have a modified experience for viewers using ad blockers

Wikia is not accessible if you've made further modifications. Remove the custom ad blocker rule(s) and the page will load as expected.