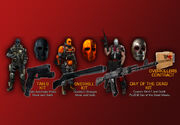 Army of Two: The Devil's Cartel came with a Pre-Order DLC called the Overkill Edition.
This came with a wealth of content.
TAH-9 Kit: A kit that comes with the Full Auto Tactical Gear, Polymer Facemask, and TAH-9 machine-pistol.
Overkill Kit: A kit that comes with the Overkiller Tactical Gear, Overkill Facemask, and "Double D" Shotgun.
Dia De Los Muertos Kit: Comes with the Dia De Los Muertos Tactical Gear set, 4 Dia De Los Muertos Facemasks, 6 custom Tattoo sets, and a custom AK-47 with a special themed skin.
Overkiller's Contract co-op mission pack.
The Dia de los Muertos facemasks and tattoos were designed by tattoo artist Paul Booth and graphic designer Steve Soto. Booth designed the "Dia de los Muertos" and "Skull Inception" facemasks and the "Last Rites" #1 to #4 tattoo sets. Soto designed the "Aztec Warrior" and "Black Widow-Maker" facemasks and the "Mayan" and "Native" tattoo sets.
Ad blocker interference detected!
Wikia is a free-to-use site that makes money from advertising. We have a modified experience for viewers using ad blockers

Wikia is not accessible if you've made further modifications. Remove the custom ad blocker rule(s) and the page will load as expected.