The
Smith & Wesson Model 29
is a six-shot, double-action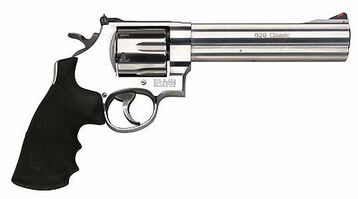 revolver chambered for the .44 Magnum cartridge and manufactured by the U.S. company Smith & Wesson. The Model 29 was offered with 3", 4", 5", 6", 6½", 8⅜" and, later, 10⅝" barrel lengths as standard models. Other barrel lengths were available either by special order from Smith & Wesson's Custom Shop or custom built by gunsmiths. The 5" barreled variant had a full length underlug. Finish options available included a highly polished blued or nickel-plated surface.
The later Model 429 was Blued Steel and the Model 629 (c.1978) was Stainless Steel.
The Smith & Wesson Model 629 revolver is titled in this game as the .44 Model 29. At its Base, it has high damage, medium accuracy, and high Aggro. Cost: $25,000
Ammo capacity: 6
Barrel
Thor's Hammer Mk.2 - $5,000
Calhoun Highnoon Special - $12,500
EAM Dead Man's Hand - $30,000
Appearance
Ad blocker interference detected!
Wikia is a free-to-use site that makes money from advertising. We have a modified experience for viewers using ad blockers

Wikia is not accessible if you've made further modifications. Remove the custom ad blocker rule(s) and the page will load as expected.