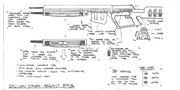 The
SAL-86 Long-Range Sniper Rifle
was a DLC weapon that was one of two winners of the Weapon Design Contest promotion held by EA Games, the makers of
Army of Two
. It was available for customers who pre-ordered the X-Box 360 version of
Army of Two
from
GameStop
and
EB Games
.
The SAL-86 consists of a 5.56mm Assault Rifle with an 130-round drum (the M86 AR) and a Squad Anti-Personnel Light grenade launcher (SAL) mounted under the barrel. Cost = $165,000.
The weapon was designed by contributor salvucci91.
The weapon was rare because the download code was given out before the SAL-86 was available. Those that downloaded it too soon just got the BST-V1 and couldn't get the SAL-86.
Ad blocker interference detected!
Wikia is a free-to-use site that makes money from advertising. We have a modified experience for viewers using ad blockers

Wikia is not accessible if you've made further modifications. Remove the custom ad blocker rule(s) and the page will load as expected.