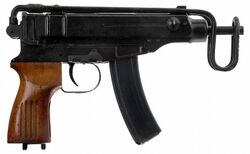 The
Škorpion vz. 61
is a Czechoslovak 7.65 mm submachine gun developed in 1959 by Miroslav Rybář (1924–1970) and produced under the official designation
Samopal vzor 61
("submachine gun model 1961") by the Česká zbrojovka arms factory in Uherský Brod. Although it was developed for use with security forces and special forces, the weapon was also accepted into service with the Czechoslovak Army, as a personal sidearm for lower-ranking army staff, vehicle drivers, armored vehicle personnel and special forces. Currently the weapon is in use with the armed forces of several countries as a sidearm.
In Army of Two, the Skorpion SA Vz 61 is a submachine gun, introduced as the Skorpion.
Cost: $7,500
Ammo capacity: 40
Barrel
Base - $0
Sanjev Sweeper - $3,000
PZ6 Whirlwind Pro - $6,000
Cartridge
40-Round Magazine - $0
50-Round Magazine - $4,000
Suppressor
None - $0
TSS Quietstrike - $1,000
Barracuda V300 - $2,000
Appearance
Standard - $0
Pimped - $10,000
Ad blocker interference detected!
Wikia is a free-to-use site that makes money from advertising. We have a modified experience for viewers using ad blockers

Wikia is not accessible if you've made further modifications. Remove the custom ad blocker rule(s) and the page will load as expected.